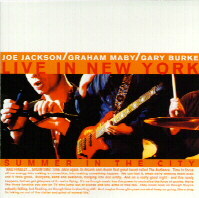 Here's a question for you… What do The Beatles, Duke Ellington, Steely Dan, The Yardbirds, & The Lovin' Spoonful all have in common? They're just some of the artists covered by Joe Jackson on his new live album. Performing in a stripped down trio setting (Jackson on piano & vocals, Graham Maby on bass & vocals, and Gary Burke on drums), Jackson takes some of his biggest tunes, plus a handful of choice covers to come up with one of the most enjoyable and consistent albums of his career.
Jackson kicks things off with a good, but short, rendition of the title track, then launches into "Obvious Song." The song doesn't have the urgency of the studio version, but it's still a good performance. If nothing else, it should get people to check out the original on Laughter and Lust. Graham Maby shows off his bass playing abilities with a solo on "Another World." Maby gets a slippery groove going on "Fools in Love," later setting up JJ's seamless segue into The Yardbirds' "For Your Love."
The covers continue as Jackson pays tribute to the great Duke Ellington on "Mood Indigo." Up next is another medley--this time the songs cover the years 1965 ("The In Crowd") to 1989 for "Down to London." It's amazing how well the medleys work on this album. The only dud on Summer in the City is "Home Town," from Jackson's underrated Big World album. The rest of the CD is great. This album is an excellent intro to Jackson's music, and longtime fans will love it too.