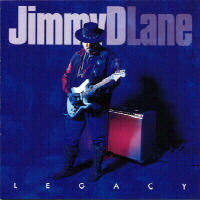 As a rule, I normally don't review CDs that aren't current. But this one is so good, I had to make an exception. Do you like the blues? If so, get to your closest music store right away and pick up a copy of Jimmy D. Lane's latest disc, Legacy. Originally released in May of 1998, this is one of the best contemporary blues records I've heard in a long time. Not only does Lane have the chops; he's also got the blues pedigree to legitimize things. Lane's father was blues guitarist, Jimmy Rogers.
On his first CD, Long Gone, Lane (a.k.a. "Little Jimmy") worked his way through a number of lackluster originals, and a handful of rock and blues covers. On Legacy, Lane still does a few covers; but his songwriting abilities have improved significantly, as did his prowess on the guitar. From the slow burning blues of "In My Bed" or Memphis Slim's "Four O'Clock in the Morning," to boogie numbers like the instrumental "Call it Blues," Lane covers all the bases. The CD kicks things off with "Hey Little Girl," and sounds like something you'd hear on a Stevie Ray Vaughan record. The SRV influence continues into "Clue Me," this time with a tinge of Robert Cray-style R&B thrown in. There isn't a bad song on the entire CD, but if I had to pick the highlights (other than the songs mentioned above), be sure to check out "Baby's Mule" and "Big House."
Rogers (real name: Jimmy A. Lane) can be heard on guitar and lead vocals on two tracks--"One Room Country Shack" and "Another Mule Kickin' in My Stall." The interplay between father and son on these tracks makes for a truly enjoyable listening experience. The fact that they left the studio chatter before the songs just makes it that much better. Unfortunately, the legendary bluesman passed away shortly after the recording of this CD, and the music world lost a truly great talent. Looking back, it's only fitting that Lane would name his album after the legacy his father left behind.
Collectors note: this CD is also available on 180g vinyl (albeit minus 4 songs).