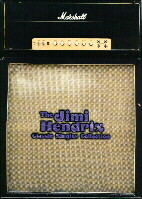 Ever since the Hendrix family gained the rights to Jimi's musical legacy, fans have been ecstatic. The folks at Experience Hendrix have been consistently releasing top-notch product, and show no signs of letting up. The only thing they haven't done yet is release something aimed at the real collectors. That is, until now. Classic Records (in conjunction with EH) just released a boxed set of 7" vinyl singles, complete with picture sleeves, and packaged them in a box that looks like a miniature Marshall amp.
The best thing about this collection is that it's not just the 'greatest hits.' Sure, it's got "Purple Haze" and "Foxey Lady," but it also has album tracks like "Up from the Skies" and "Still Raining, Still Dreaming." Just about every aspect of Jimi's illustrious career is covered here. Along with the ten singles, the box also comes with a beautiful 20-page full color booklet, loaded with photos and an informative essay by Steve Rodham.
As any record collector will tell you; there's nothing like the sweet sound of vinyl. Classic Records is well known for their vinyl releases, and this one lives up to all expectations. Keeping with their commitment to quality, the master tapes were used on all of the singles for optimum sound. Obviously, this box isn't for everyone. But for the diehard Hendrix collectors out there, this is a must have.
TRACK LIST
Hey Joe
Stone Free
Purple Haze
Foxy Lady
The Wind Cries Mary
Fire
Little Wing
Spanish Castle Magic
Up From the Skies
Gypsy Eyes
Voodoo Child (Slight Return)
Room Full of Mirrors
All Along the Watchtower
Long Hot Summer Night
Crosstown Traffic
If 6 Was 9
Rainy Day, Dream Away
Still Raining, Still Dreaming
Freedom
Angel