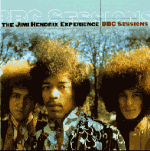 Ever since Experience Hendrix (the family owned company) gained the rights to Jimi's work, they have been releasing consistently great material. First came the original three albums and First Rays of the New Rising Sun, then the recent South Saturn Delta and Band of Gypsys. From a fan's standpoint, this easily is the best thing they have done to date. BBC Sessions contains all the tracks that appeared on the Radio One CD from a few years back, plus 13 previously unreleased cuts. One of the best things about this collection is the inclusion of the intros before some of the songs, letting you 'experience' what it was like to hear these tunes performed live on the radio.
When you look at the track listing, the first thing you notice is the number of tracks--37 of them in all. Out of all the tracks on these discs, the only ones that don't measure up are: "Manic Depression" (due to the muddy mix), "Foxey Lady" and "Hear My Train A-Comin'" (the versions on disc one are more inspired). Highlights? Well, lessee… On disc one: "Foxey Lady" (possibly the best version of the song commercially available), "Driving South" (both versions, but especially the second one, with its killer leads), "Fire" (with alternate lyrics), "Hey Joe" (much better than the alternate take on disc two), and the Muddy Waters tune, "Catfish Blues."
Highlights on disc two include "Wait Until Tomorrow," "Day Tripper" (featuring an extended ending), a great version of "Spanish Castle Magic," and the medley "Jammin'/I Was Made to Love Her" with Stevie Wonder on drums. Although the medley is incomplete (it fades out before they go into "Ain't Too Proud to Beg"), it's still one of the most interesting things here. The best thing on disc two has to be the band's appearance on the Lulu show. After an abbreviated "Hey Joe" where Jimi warns the audience to "cover your ears," they stop the tune and go into a short instrumental version of "Sunshine of Your Love." You can just imagine the looks on the audience's faces. Classic.
Experience Hendrix has really outdone themselves with this latest release. The booklet is loaded with rare photos and comprehensive liner notes. Like all the other EH titles, BBC Sessions is also available as a numbered, limited edition on 180-gram vinyl, in a triple gatefold cover. They sound great, and they look and feel even better. Get 'em while you can.