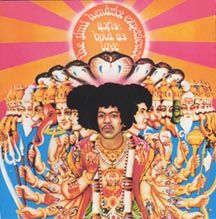 When Classic Records releases a new title on vinyl, it's always special. But when that title is the mono version of Jim Hendrix's classic Axis Bold as Love, it's an event. Original mono pressings of this album (if you can find them) go for as much as $2000. Several of the songs are noticeably different than the stereo versions most of us know and love. In general, the 180g vinyl pressing has considerably more bass than its CD counterpart, although the sound on the CD is clearer in several places. The album was mastered from the original mono masters by Eddie Kramer--the original engineer on the sessions. Let's talk about the specifics…
"EXP" is almost 40 seconds shorter on the vinyl, and the vocals by 'Paul Caruso' are louder. The difference on the stereo version is extended feedback at the end. "Spanish Castle Magic" and "Wait Until Tomorrow" boast a much better low end than the CD. On the latter tune, the first note is too loud on CD. The volume is corrected on the LP, but the song fades up to full volume, as opposed to maintaining a consistent level throughout the track. One of the other problems with the CD is audible tape hiss. The false ending on "Ain't No Telling" is louder on the CD. The vinyl is much warmer on "Little Wing" and the end solo is more up front.
"If 6 Was 9" doesn't have near as much high end as the CD, and the bass is slightly muddy. Although the song's highs are much brighter on the CD, it also has considerable tape hiss that isn't heard on the vinyl. "You Got Me Floatin'" is missing the intro on the LP. "Castles Made of Sand" has a cleaner intro on the CD; the vinyl is slightly muddy in comparison, but features a different vocal performance. "One Rainy Wish" has much more bass on LP and a slightly different ending. The title track, "Bold as Love" is the one instance where the CD is superior. Without the channel panning, the song is clearly missing something.
The burning question here is: which one sounds better? It really depends on your personal preferences. The analog aficionados will no doubt pick the vinyl. It's much warmer than the CD and the bass will literally shake the room. Digi-fans will be more than happy with the sound on the CD (even if they need to crank up the bass a bit), and the booklet is excellent. It's a shame that it's not included in the vinyl pressing. On a positive note, the vinyl is on the Track label, plus when you consider that the mono version has been out of print ever since the original pressing hit the stores, this is the perfect addition for the Hendrix collectors out there. The choice is yours.