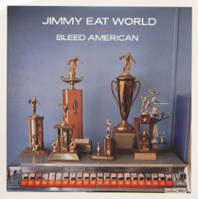 Jimmy Eat World is daring you not to like them. Bleed American, their latest release, serves as a benchmark in more ways than one. For one thing, it is the unveiling of the "new" Jimmy Eat World, now signed with DreamWorks. More importantly, however, it is a serious attempt at making the move from musical obscurity to pop-rock's newest underdog triumph.
Left high and dry by their label in 1999, the band took that negative experience and turned it into a positive one. Upon listening to the band's new album, it seems the music didn't suffer from the fall out of the failed marriage. If anything, Bleed American is a solid collection of tunes with each song actually being catchier than the last.
The title track (and first single), "Bleed American," is an in your face adrenaline rush of sound. "A Praise Chorus" is entertaining on multiple levels, with subtle lyrical references to "Crimson and Clover," Madness, They Might Be Giants, and even a dash of Motley Crue. "The Middle" is where the notable influences start to kick in.
The band shows their sensitive side on "Your House," and the result is a lot like equally underrated alt-rockers Guster. "If You Don't…Don't" and "Get It Faster" sound like the successful merging of Weezer and Matthew Sweet. "Sweetness" just might be the track whose infectious hook is hardest to deny. "The Authority Song" pays homage to the Mellencamp tune of the same name.
With Bleed American, Jimmy Eat World is sending a message loud and clear to all of pop's non-believers. Not only is the promise of well-crafted pop not just a pipe dream; where Jimmy Eat World is concerned, it's a vivid reality.