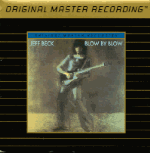 When it comes to guitarists, there aren't many that can top Jeff Beck. When it comes to Jeff Beck albums, there aren't any that top 1975's Blow By Blow. His first instrumental album, Blow By Blow was also his first release to go gold. Taking that into consideration, it's only fitting that MoFi should step in and give it the 24K treatment. The original vinyl was used in countless stereo shops when it came out, and rightly so. It sounded great. Sony released a half-speed mastered version on vinyl several years ago, and then a gold CD version after that. MoFi's new disc blows them all away.
The low end on this disc will knock you out of your seat. It's deep and tight; never muddy. The highs are perfect, never shrill or harsh. The best way to experience this CD is through a good pair of headphones. It sounds great through speakers too, but when you listen through a pair of high quality headphones, you become the center of the soundstage and you can hear each little nuance. Check out the string arrangement as it swirls around your head during Max Middleton's keyboard solo on "Scatterbrain," or the channel separation on "You Know What I Mean" and "She's a Woman." It doesn't get much better than that.
Of course, this is a Jeff Beck album. The main focus should be on the guitar, right? Right. Cue up "Cause We've Ended as Lovers" and hit the play button. This song remains one of Beck's signature solos, and rightly so. His heartfelt fretwork is unmatched, and the sound quality is just outstanding. Even the drum fill on the rim sounds great. Want to show off your system? This is the song to put on. With the new liner notes & added photos, MoFi has produced the definitive version of this landmark album. They have worked their 24K magic on countless releases in the past, but this is clearly one of their best to date. Even if you already own multiple copies of this album (like me), this is a must-have disc.