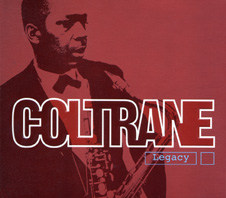 Legacy is the second multi-label John Coltrane compilation to appear in recent years. The first, The Last Giant, released by Rhino in 1993, is a 2CD set that includes interesting and rare recordings of Coltrane's earliest performances, and provides a generous sampling of Coltrane's Atlantic sides--but none of his important Impulse! material. Over the course of this four-disc collection, Legacy promises to correct the earlier set's deficiencies and to present a comprehensive career retrospective.
Legacy does not attempt to cover the early (pre-1955) period, but more than compensates for this omission with its wealth of later material. Much of the music found here is Coltrane at the height of his powers. For listeners unfamiliar with his work, this set offers a sufficient introductory sampling.
However, those who hope to find any significant new information or an insightful summary of Coltrane's life in music will be disappointed. Despite the full backing and cooperation of the Coltrane family, surprisingly little is revealed. Ravi Coltrane, John's eldest surviving son, produced the set, selected the tracks, and provides the commentary.
Although Legacy was two years in production, in the end, Impulse! was unable to gain the publishing rights to several of Coltrane's most significant recordings. CBS/Sony, Blue Note, and Riverside provide just one track each. There is nothing from either Savoy or Pablo. And, there is not one performance from Kind of Blue. In fact, one must look hard to find any trace of Miles Davis (heard only on the 1955 "Stablemates" and the 1958 live version of "Two Bass Hit").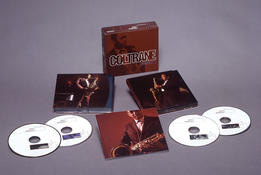 Each of the four discs emphasizes a different aspect of Coltrane's music: 'Harmonic / Melodic,' 'Rhythmic,' 'Elvin and Trane,' and 'Live.' While Ravi could have brought any number of interesting perspectives to bear on his father's work, his contribution here is minimal. Consequently, it is often difficult to discern just what he intends the selections to illustrate.
The topical arrangement also prevents the listener from grasping the overall progression of Coltrane's development. For instance, the transitional "Giant Steps" or "Countdown" should be heard on disc 2, between 1958's "Lover" and 1960's "My Favorite Things," Instead, both of these tracks appear on disc 1. This is just one of several jarring discontinuities created by the organization, not only within discs, but between discs as well.
As with any compilation like this, there's no way to adequately pay tribute to a musician of this importance over the course of four CDs. Legacy is squarely aimed at those who are just discovering John Coltrane; and in that respect, it does a fair job. However, those who are looking for a true career retrospective will be disappointed.