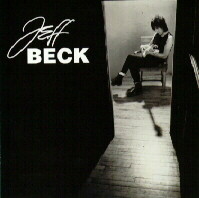 On his latest effort, Who Else!, fret-master Jeff Beck takes us on quite a diverse musical journey. Blues, funk, fusion, electronica, even techno. It's all here. Not all of the tunes work, but the ones that do are riveting and inspired--particularly those on the second half of the CD. Joining Beck on the new disc are Jennifer Batten on guitar & MIDI, Tony Hymas on keyboards, Randy Hope-Taylor and Pino Palladino on bass, Steve Alexander and Manu Katche on drums, and a special appearance by Jan Hammer on drums and keyboards on "Even Odds."
"What Mama Said" is the lead track, and finds the guitarist exploring the techno realm with startling results. Even if you're not a techno fan, check this track out. The down & dirty "Brush With the Blues" ranks among the best work of his career. On "Space for the Papa," Beck revisits the sounds of his Guitar Shop era. The track features uncredited vocals (the only vocals on the CD) by Chrissie Hynde. "I wanted her somewhere on my record," says Beck. "I wanted a really nice, sexy voice, and she came along and did it in one take." Other highlights include "Angel (Footsteps)," a simple but beautiful song that shows off Beck's unique tone & phrasing, and the funk of "Hip-Notica."
A lot of the songs on this disc reminded me of something from the old No Speak label (a defunct instrumental rock label whose motto was 'music too good for words'). If you liked that label's material, this CD will be right up your alley. It's great to hear Jeff Beck in such fine form after all this time (it's been 10 years since his last 'real' album). Who Else! is one of those albums that get better each time you listen to it. His playing is exciting and masterful throughout the disc. It's no Blow by Blow, but even if you're not into all the musical styles here, there's bound to be something you'll like.