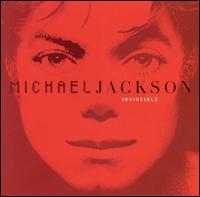 It has been six long years since Michael Jackson released a new studio album and even longer since he's been at the top of his game. If he had anything to say about it, the drought would end with his latest outing, Invincible--a title that speaks volumes about what Jackson is striving for. Invincible, like the man himself, has the unenviable task of taking the pop world by storm and securing his title as the undisputed King of Pop.
The new material first hit airwaves with the rising single, "You Rock My World." It's a solid rock/r&b/pop hybrid thru and thru, a style that Jackson single handedly made infamous some twenty-five years prior. But the big question remains--will fans feel pacified by the Jackson sound they know and love, or will Invincible merely whet their appetite for more?
There are plenty tracks on Invincible that are good for groove, and there are others that are sure to set the mood. "Butterflies," a slick, mellow slow jam has already begun to pick up significant airplay. The slow song that is likely to stick with you goes to "Don't Walk Away," a dark horse, yet one of Invincible's finer offerings.
And what would a Michael Jackson album be without the signature attitude pop that the gloved one has all but patented? "Heartbreaker," "Unbreakable" and "Threatened" are all in your face pop tunes bursting to brood. Not since "Thriller" or "Bad" has Jackson been so in tune with the inner feistiness. "Privacy" picks up where "Leave Me Alone" left off, while "The Lost Children" strokes Jackson's inner err, child as "Heal the World" and "Man in the Mirror" once did.
With all that Invincible offers, the one thing it lacks is an element of surprise. "Whatever Happens" with Carlos Santana proves Jackson can do sexy with sophistication, and "2000 Watts" is a refreshing change of pace that allows the 'new kids' to show Jackson a thing or two. But those fans who love Jackson for his cream of the crop pop and trendsetting standards, will likely feel disappointment with the same ol', since nearly all of Invincible's impressive sixteen new tracks are interchangeable with Jackson's previous releases.
If invincibility has suddenly become synonymous with stagnation, then I would say Jackson has surely succeeded. While he shamons and shrieks just as proudly as he ever did, with Invincible we get a pop icon trying to follow in his own footsteps, not one who is trying to lead by making new strides.