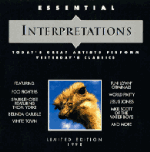 Looking for a new collection of cover tunes? Well, look no further. As you may or may not know, EMI is celebrating their 100th anniversary, and the record buying public gets to reap the benefits. The folks at EPROP (formerly EMI/Capitol here in the US) have been releasing a series of limited edition discs called Essentials, each CD being available for a period of six months. The first four titles went out of print at the end of March. The next four (including Interpretations) were just released.
Originally released last year in the UK under the title, Come Again; Interpretations contains 22 cover versions of classics tunes from yesteryear, performed by current EMI artists. Some work, some don't. Others will surprise you. The one thing this collection doesn't lack is variety. Each artist got to pick the tune they wanted to cover. The CD gets off to a good start with John Butler's take on Bobbie Gentry's "Ode to Billie Joe," followed by Belinda Carlisle & Radiator doing the Sex Pistols' "Submission."
One of the most unlikely combinations, and yet possibly the best track included here, is Foo Fighters' scorching cover of Gerry Rafferty's "Baker Street." The song's trademark sax solos have been replaced by guitar solos. As strange as this may sound, it works. Dave Grohl's vocals on the song fit perfectly. This song alone is worth the price of the CD. In a classic case of one extreme to another, up next is Fun Lovin' Criminals doing the Louis Armstrong tune, "We Have All the Time in the World."
Octopus turns in a straightforward cover of David Bowie's "Starman." The vocals even sound like early Bowie. Ex-Waterboy Mike Scott does a good job on the Kate Bush/Prince collaboration, "Why Should I Love You," leaving most of dance aspects of the tune behind. Country newcomers Sparklehorse teamed up with Radiohead lead vocalist Thom Yorke on Pink Floyd's "Wish You Were Here." Keeping with the original tone of the song, Yorke actually sang and played his TV over the telephone. (A note for the completists out there--this is not the same version that previously appeared on the UK chEMIstry sampler).
Supernaturals do an interesting rendition of Queen's "You're By Best Friend" that almost sounds like a Beatles outtake. White Buffalo's "Ziggy Stardust" is derivative at best. The vocals reminded me of ex-Stone Temple Pilots vocalist, Scott Wieland. White Town turns in a psychedelia-tinged, yet sugary pop version of "Rhinestone Cowboy." This one is so sweet, you almost feel guilty for not liking it. The second disc wraps up with a cover of "Do Wah Diddy Diddy" by performance poet, Murray Lachlan Young. I'm not even going to try to describe this one; you'll have to experience it for yourself.
In case all these tunes weren't enough, Interpretations is specially priced (two CDs for the price of one); and all of the profits are being donated to the Music Sound Foundation, a charity benefiting community based music programs for kids.
TRACK LIST:
DISC ONE - Ode To Billy Joe (John Butler) * Submission (Belinda Carlisle & Radiator) * When You're In Love With A Beautiful Woman (Cecil) * Jealously (Dubstar) * The Air That I Breathe (Feline) * Baker Street (Foo Fighters) * We Have All The Time In The World (Fun Lovin' Criminals) * Where Did Our Love Go (Gluebound) * Go Buddy Go (Jesus Jones) * It Started With A Kiss (Kenickie - with Errol Brown) * Duchess (My Life Story)
DISC TWO - Starman (Octopus) * Why Should I Love You? (Mike Scott) * Wish You Were Here (Sparklehorse - with Thom Yorke) * You're My Best Friend (Supernaturals) * Forever & Ever (Terrorvision) * Ziggy Stardust (White Buffalo) * Rhinestone Cowboy (Whitetown) * Ev'ry Time We Say Goodbye (Robbie Williams) * See Emily Play (Wireless) * Martha My Dear (World Party) * Do Wah Diddy Diddy (Murray Lachlan Young)