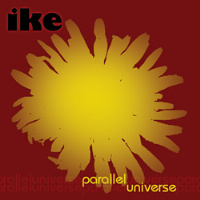 Some artists, if they're lucky, get one good shot at stardom. John Faye meanwhile (lead vocalist and lyrical guru behind the band Ike), is like the rocker with nine lives, reinventing himself numerous times now, only to stick to one sure ingredient; great pop music.
A Philly native, John Faye has fronted other lesser-known gems such as The Caulfields and the tongue-in-cheek John Faye Power Trip. All roads, however, have led to Ike's Parallel Universe, a pop music fan's paradise that almost wasn't meant to be.
After a hard drive mishap, John Faye and company lost nearly half the album, and almost all hope. From the start, fans showed their support, contributing $18,000 towards Ike's recording new music, giving new meaning to the power of being a fan.
The resulting effort is power pop perfection. The first single, "Deathbed (Na, Na, Na"), is a fun, upbeat tune that slickly acknowledges Faye's anonymity ("And there's a lot that I got to say, I'll tell it to the world on my deathbed someday").
Elsewhere the mood is equally as infectious, crafting songs that strike just the right balance between being poppy and pensive. The lyrically unique "Dandelion" covers the familiar territory of want from a refreshing perspective. Even "Katy Cry's" up-tempo beat somehow manages to make loss not seem all that bad.
Playful wordage is also an important element to Ike's success, with colorful lyrics on tunes such as the damaging "Never Take It Back," ("Sometimes you aim the world at me, when I'm only standing still. Sticks and stones got nothing on the words you shoot to kill.") Finally, there's the anthemic feel of "Revenge," which gives new meaning to the saying revenge is sweet.
The only disappointing part of Ike is that more people don't know about them. Hopefully, with Parallel Universe, Ike won't be living in their own world for much longer.