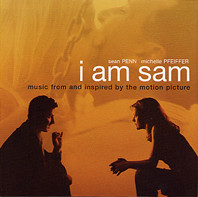 Tribute albums seem to be a dime a dozen these days. Everybody's doing them. One of the better ones to come along in recent memory is the soundtrack to I am Sam. Of the 17 tracks included here, there are only a few that will send you lunging for the skip button on your CD player. The fact that the majority these tunes are done as well as they are is an achievement in itself.
Things get off to a great start with Aimee Mann & Michael Penn's "Two of Us" and Sarah McLachlan's take on "Blackbird." The producers did a great job of picking the artists to do these two songs. Things quickly go downhill from there, though, with Rufus Wainwright warbling his way "Across the Universe."
The Wallflowers turn in a fittingly retro-sounding version of "I'm Looking Through You" and Eddie Vedder's solo rendition of "You've Got to Hide Your Love Away" is notable as well. Ben Harper was the perfect choice for "Strawberry Fields Forever,' adding just the right amount of psychedelia to the song to make it sound authentic.
After suffering through Sheryl Crow's whiny version of "Mother Nature's Son," Ben Folds turns a respectable rendition of "Golden Slumbers." It's a bit strange not having it followed by "Carry That Weight," but he does a good job with the song. The Vines do a great job with the relatively obscure (that is, if any Beatles song can truly be called obscure at this point) "I'm Only Sleeping."
The Black Crowes contribute what could end up being the last thing we hear from them, their version of "Lucy in the Sky With Diamonds." The saddest thing about all this is that unless you see the band's name in the track listing, you'd never know it was them. There are only two instances on this CD where the artists take any real liberties with the tune. Chocolate Genius does an excellent job with "Julia," and Grandaddy serves up a different take on "Revolution" (however, I'm not quite sure what to make of this one).
Heather Nova and Paul Westerberg both do good versions of their songs--"We Can Work it Out" and "Nowhere Man" respectively. Nick Cave ends the disc with the worst song of them all, "Let it Be." I'll be nice and describe this one as "your father's Beatles." Do yourself a favor and just hit the stop button before it gets there.
With a few exceptions, this is one of the best 'tribute albums' to come along in a long time. Recommended for Beatle fans, as well as fans of any of the artists mentioned.