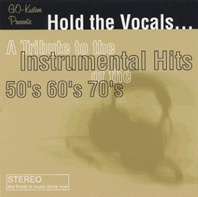 Tribute CDs are usually a hit or miss affair. This one's a bit different. Rather than concentrating on one artist, or a specific genre, Hold the Vocals salutes the instrumental tunes that were hits during the 50's, 60's and 70's, and overall, the results are quite good. Most of the bands featured here will be unknown to the masses, but don't let that keep you from checking out this disc. Independent/obscure artists are often just as enjoyable (sometimes more so) as their über-moneymaking peers. As for the artists being covered here, you can't get much more variety: how about Captain Beefheart, Henry Mancini, Led Zeppelin, Funkadelic, & The Beach Boys for starters?
The Squirrels get the award for the most innovative tune (or tunes, in this case) for their mixing of "Hawaii Five-O" and Dave Brubeck's "Take Five." This may seem like an unlikely combination, but it really works. Waterdogs turn in a fine cover of Henry Mancini's theme from the Blake Edwards movie, Experiment in Terror. Ever wonder what The Allman Brothers Band would sound like as a surf band? Check out Hugh Jones' cool take on "Don't Want You No More" and you'll get a good idea. Jones never strays too far from the classic ABB sound, but he gives you an idea of what they could sound like.
Bill Wolford's Head serves up a funked-up rendition of Zeppelin's "Moby Dick," only instead of the drum solo, Wolford throws in orgasmic moans and samples of "Whole Lotta Love." Link Wray, who is probably best known as the man responsible for inventing the power chord, is ably represented here by d.A. Sebasstian's with his version of Wray's "Rumble." Things quiet down a bit on tracks by Adam & His Ballard Playboys (who contribute a beautiful cover of Santo & Johnny's "Sleepwalk") and Michael R. Bristow (with his acoustic version of The Beach Boys' "Pet Sounds").
Over the course of the next three tracks, this CD is all over the musical palette--from rockabilly (The Exploding Pintos' cover of Jeff Beck's "Jeff's Boogie") to electronica (on Swedish Whistler's version of Hot Butter's "Popcorn," complete with the sound of popping corn at the end) to ambient trance (on Trance to the Sun's ethereal take on Fleetwood Mac's "Albatross"). On Alonzo "Blind Pineapple" Phillips' "Pipeline," the song sounds like something out of a spaghetti western instead of the surf classic made famous by The Chantays and later by Dick Dale and Stevie Ray Vaughan.
The only two tracks that don't measure up are Elvis X's unrecognizable cover of Billy Preston's "Outtaspace" and Clang Quartet's butchering of Edgar Winter's "Frankenstein." The drum solo sounds like it's being played on coffee cans… Maybe that's the idea. The rest of the songs on the CD are at least worth a listen, and in most cases, more than one. If you're a fan of cover songs or any of the bands covered here, Hold the Vocals will make a great addition to your collection.