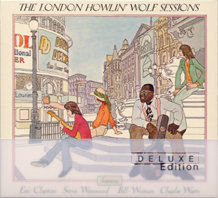 The London Howlin' Wolf Sessions is one of those albums that I've seen in the racks for years and, for whatever reason, always ignored. What a mistake that was. Thankfully, the folks at MCA have just reissued it in their 'deluxe edition' series, with 15 bonus tracks. Disc one contains the original album in its entirety, plus 3 bonus tracks--"Goin' Down Slow," "Killing Floor" and "I Want to Have a Word With You"--which originally appeared on the London Revisited release. The second CD contains 12 more bonus tracks (all of them previously unreleased) made up of rehearsals, alternate takes, studio banter, etc.
Let me give you a little history on what happened during these sessions. It was May 1970. Just a month short of his 60th birthday and in failing health, the album's producer, Norman Dayron sent Wolf to England, accompanied by his guitarist Hubert Sumlin. Dayron got ahold of Eric Clapton & asked if he'd like to record an album with Howlin' Wolf. Clapton jumped on the opportunity and gathered some friends (Charlie Watts and Bill Wyman for starters) to play backup.
However, logistics soon became a problem. When Wolf and company arrived at the studio, they had no rhythm section. Wyman and Watts weren't available for the first day's sessions and weren't scheduled to come in until the second day. Dayron put the call out for a drummer and a bass player. In no time, Ringo Starr (who ended up being credited as "Richie" when the original album was released) and Alan White showed up, and Klaus Voorman came in to play bass.
The other thing that Dayron didn't count on was the intimidation factor felt by the musicians felt in the studio. Wolf wasn't feeling very well and Clapton was having a hard time finding a place in the band with the other musicians on hand. Once Wyman and Watts came in on the second day, things went a little more smoothly. Still, they ran into problems. It was time to do "Little Red Rooster." Everyone knew how to play the song, but it just wasn't coming together. Clapton asked the blues icon to show him how to play the basic lick. Wolf looked at him like 'you're kidding, right?" Clapton said "No, Man. We want to get the right feel for it." At that point, the ice had been broken and the creative juices began to flow.
As with all of MCA's 'deluxe editions,' there are loads of rare photos and extensive liner notes in The London Howlin' Wolf Sessions--including a new interview with Dayron himself. Don't make the same mistake I did. If you like the blues, don't pass up the chance to add this classic album to your collection.