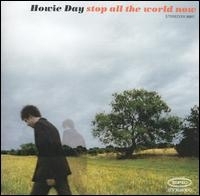 They say that timing can be everything. At the tender age of 22, singer/songwriter Howie Day is about to make his mark on the musical world. Stop All the World Now is already his sophomore release and an eagerly anticipated follow-up to the underground, independent first album, Australia. The most notable difference this time around is the richer, more mature arrangements present throughout the collection.
The lyricism alone on is worthy of pause and admiration. From the aptly titled "Perfect Time of Day" to the laidback vibe of "Sunday Morning Song," Day has compiled a collection perfect for a--no pun intended--perfect Sunday drive.
"Collide" makes a quiet but deliberate impression on the listener, much in the vein of another introspective band, Remy Zero. Then there's "She Says," which is hands down Day's baby. The track has followed him throughout his career, growing and evolving much as Day has also grown and evolved. The result is a richer, more finished sounding version that complements the album as well as the songwriter.
Another strong arena for Day is his ability to write simple heartbreaking ballads, stripped down to just a piano and a voice. On "End of Our Days," Day reminds us that while you can take the boy out of the coffeehouse, you can't take the coffeehouse out of the boy.
Fans of Day's original acoustic sounds might be disappointed to find he has branched out a bit on his new album. But while Day is far from hitting his peak, he is riding a consistent stride of strong melodies with lyrics to match. If Day can find just the right balance there will be no cause for stopping.