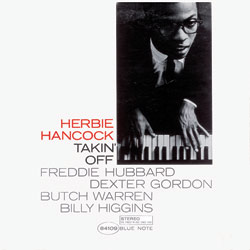 I learned a valuable lesson today--never judge an album by the way it looks. We've seen quite a few Blue Note reissues here at The Night Owl. Most have come from Classic Records, and with only a few exceptions, they've all been outstanding. When I heard that Cisco was jumping into the Blue Note arena, I thought to myself, this has GOT to be a good thing--especially after hearing what they did with their last few releases (check out our review for The Guess Who's American Woman LP).
Unfortunately, my first impressions were not good. When I pulled out the album, there were scuffmarks all over both sides. This was not what I wanted to see. As somewhat of a Blue Note purist/snob, the other thing I noticed right away was that they 'modernized' the font used on the labels. Is that Arial? It sure looks like it! Strike two. Cisco was one strike away from a disappointment out when I said "what the hell" and put the album on the turntable.
MAN, was I surprised! The vinyl was absolutely silent. No surface noise whatsoever. It was like the scuff marks were a figment of my imagination. This is more like it! To these ears, Takin' Off was never one of Rudy Van Gelder's better recordings, but Cisco did some real wonders with it on their 180g vinyl pressing. The soundstage is wider than ever before and the dynamics are noticeably improved. All the instruments are clear as a bell.
There was some brief, very minor, static in the right channel at the very end of "Empty Pockets," but other than that, this was a perfect pressing. Warm, and full of life. Much better than the CD!
If you're a jazz lover, and you've been putting off buying a turntable (what do you mean, you don't have one already??), Takin' Off is a great reason to get one. Highly recommended.