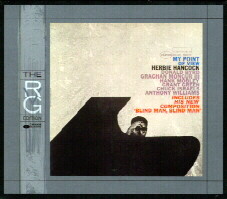 My Point of View was Herbie Hancock's second album as a leader for Blue Note, and featured the funky jukebox staple, "Blind Man, Blind Man." One of the things that make this album so impressive is the way Hancock always manages to get the most out of his songs and the musicians who play on them. Looking back, the lineup on this album reads like a who's who in jazz. Aside from Blue Note mainstays Donald Byrd, Hank Mobley and Grant Green, the album also introduced Tony Williams to the jazz world.
Hancock definitely wasn't afraid to take chances on the album. His five original compositions were much more diverse than those on his debut, and he led a 7-piece band through the sessions. The fact that you seldom hear all seven musicians playing on the same track says a lot for Hancock's arranging capabilities as well. The material on My Point of View is all based loosely around the hard bop genre, but Hancock reaches beyond all the boundaries; with the songs running the gamut from a simple ballad like "The Pleasure is Mine" to more adventurous tracks like the modal "King Cobra."
Blue Note just reissued this album in their latest batch of RVG Editions (all personally remastered by original engineer, Rudy Van Gelder). There are new liner notes, it sounds better than before, and they added an alternate take of "Blind Man, Blind Man." My Point of View may be a bit more laid-back than his debut album, but it's just as stunning.