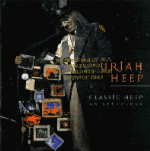 Uriah Heep was never a critic's band. One critic went as far as to say that "if this band makes it, I'll kill myself." Well, I don't know if that critic is still with us or not, but judging by this new 30-track compilation, Uriah Heep definitely "made it." Classic Heep covers the band's peak years (1969-1976) in chronological order; and aside from one or two tracks, there isn't a bad song in the lot. The material has all been digitally remastered, and in most cases, sounds better than ever.
The first disc gets off to a great start with "Gypsy," from the band's debut album. From there it goes into the worst song in the collection. Why they included this song, I'll never know. Talk about a mood killer. Not to worry though, "Bird of Prey" (the inferior US version) follows and picks up the pace again. The best thing about this compilation is that it's not just the 'hits.' There are plenty of album tracks included for the fans.
"The Park" is a perfect example, with its haunting vocals and jazzy interlude. It's a far cry from FM staples like "Easy Livin'" (also included, of course), but it shows the diversity of the band. The material from Look at Yourself sounds much better than the original album did. "Tears in My Eyes" is a perfect example of the multi-layered music that made the band famous, and "July Morning" is absolutely spectacular.
Few fans will deny that Uriah Heep reached their musical peak on their fourth album, Demons and Wizards. Classic Heep features all but two tracks from that album, plus "Why"--previously only available as the B-side to "The Wizard." Musically, it's a good tune, although it sounds more like something that should have appeared on The Magician's Birthday. "Rain" and "The Easy Road" showed a softer side of the band, the latter featuring a string arrangement.
Although Classic Heep is a bit light on the next four albums, it's great to finally have songs like "Footprints in the Snow" and "Weep in Silence" on CD here in the US. If you're a fan, you're gonna love this collection. If you're not, pick up a copy and find out what you've been missing.
TRACK LIST:
Disc One: Gypsy * Come Away Melinda * Bird of Prey * I'll Keep on Trying * High Priestess * The Park * Lady in Black * Look at Yourself * July Morning * Tears in My Eyes * Love Machine * The Wizard * Why * Traveller in Time * Easy Livin' * Circle of Hands
Disc Two: Rainbow Demon * Paradise/The Spell * Sunrise * Blind Eye * The Magician's Birthday * Sweet Lorraine * Rain * Stealin' * Sweet Freedom * Wonderworld * The Easy Road * Return to Fantasy * Footprints in the Snow * Weep in Silence