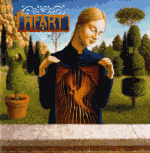 Having been a Heart fan since the band's inception in 1975, I've seen the band got through a lot of changes. Some worked, some didn't. Most (but not all) of the 80's material falls into the latter area. When I heard that Legacy was releasing another greatest hits package, I was a bit skeptical. The first thing that popped into my mind was that this must be a contract album, just something to fulfill the obligation. They already have a greatest hits album (and a damn good one at that).
The songs on this album showcase the band as they evolved from a Pacific Northwest bar band into a major rock act. I have a few pet peeves to complain about, but this is still a far better collection than the one they just released on Capitol. First of all, you should never have "Crazy on You" without the "Dreamboat Annie" intro. Sacrilege. Second, there are two crucial songs that are missing--"Rockin' Heaven Down" and "Mistral Wind." Instead, we get "Bebe le Strange" and the new song, "Strong, Strong Wind." It's great to have a new track on here, but it's more in line with what they were doing for Capitol--power ballads with strings.
On the positive side, we get seldom heard tracks like "Little Queen" and "Love Alive." "How Can I Refuse" is another highlight. Even though the latter is an 80's track, it showed that Heart was still capable of turning out good music amidst all the crap that most other bands were releasing back then. When all is said and done, there will always be somebody who won't be satisfied with 'greatest hits' packages like this. But if you're a fan of Heart's early (and best) material, this CD is hard to beat.
TRACK LIST:
Strong, Strong Wind * Magic Man * Crazy On You * Dreamboat Annie * Barracuda * Little Queen * Kick it Out * Love Alive * Heartless * Straight On * Dog & Butterfly * Even it Up * Bebe le Strange * Tell it Like it Is * This Man is Mine * How Can I Refuse * Rock and Roll (live)