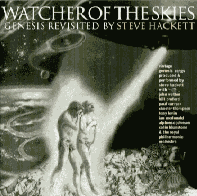 Tribute albums (especially those with an orchestra) seem to be a dime a dozen these days. Some are quite good, and then there are the rest. Fortunately, this CD falls into the first group. Watcher of the Skies isn't really a tribute album, per se. Ex-Genesis guitarist, Steve Hackett got a few of his friends and ex-bandmates together to rework classic Genesis material. Hackett was responsible for a great deal of the band's 'sound,' and it's readily apparent here. The title cut gets things off to a great start and features vocals by John Wetton (King Crimson, Asia, Uriah Heep)."Dance on a Volcano" is another highlight. Hackett's ominous, electronically embellished vocals sound as if they're coming from the depths of the volcano itself. Joining Hackett on the track are bassist Alphonso Johnson, and Genesis' touring drummer, Chester Thompson. "Déjà Vu," was a left over track from 1974, written by (then lead vocalist) Peter Gabriel, and completed in 1996 by Hackett. Unfortunately, it's little more than a cure for insomnia, and should have stayed on the shelf.
The best track on the CD is "Firth of Fifth." The middle piano solo has been replaced by Hackett's classical guitar solo, and a new orchestral percussion section. I really can't say enough good things about this track. Genesis alumni, Bill Bruford does his usual outstanding job on the drums, and John Wetton is back again on bass and vocals. Add the Royal Philharmonic Orchestra, and you've made an already great song even better.
The only other disappointment on Watcher of the Skies is "I Know What I Like." For some reason, they decided to take this song and turn into a lounge track. But that wasn't enough, ohhh nooo. They tried to redeem themselves with the end section-a ripoff of Mike Oldfield's classic, Tubular Bells (the part where Oldfield introduces each instrument as they come in). It's interesting to hear once. Fortunately, you can use the skip feature on your CD player to go to the awesome finale, "Los Endos."
Genesis fans are sure to enjoy this release from Hackett and friends. If only Genesis was still making music that sounded like this…