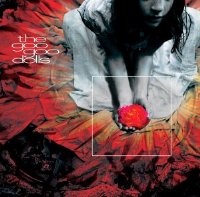 Certain to score a slam dunk, the Goo Goo Dolls are back with their practically patented potion of distant angst ridden rock. A 15 year and counting union, The Dolls have made a name (pun intended) for themselves in the latter portion of their career, infamous for heart on your sleeve rockers like "Iris," "Slide," and "Black Balloon."
While the Goo Goo Dolls have no problem creating the hits, they do have some trouble when it comes to reinventing the wheel. The appropriately titled "The Big Machine" churns a catchy hook and is likely to spawn another radio mainstay. "What A Scene" is a hit in waiting, while "Here is Gone" is currently up to bat. Boasting hollow lyrics such as "You and I got something, but it's all and then it's nothing to me…yeah" is exhibit A in the case against the Goo Goo Dolls as misunderstood, misguided poets.
"Think About Me" is a nice inclusion, and a throw back to old school Goo before the days of the big boom. Johnny Rzeznik's moody delivery works for him on "It's Over," but it is "Sympathy" that is the raw surprise, an acoustic tinged cut that seems to be fighting the urge to pick up the pace, adding a few loud guitars to the mix.
As usual, rounding out Gutterflower are tracks such as "Up, Up, Up," You Never Know," "Smash," and "Tucked Away," all written and sung by bass player and sometimes vocalist, Robby Takac. When Takac takes the lead it has always seemed like two separate bands were at work, if only to adhere to the unwritten rule of "you sing what you write." While Takac's turns are admittedly peppier than ever before, even his best tune is still a far cry from top 40 territory.
An album full of equal parts hits and misses, the Goo Dolls seem to have set out with they always intend to do. I suppose whether that's good or bad all depends on where you're standing. Either way, Gutterflower's vibe reminds us "it's all goo."