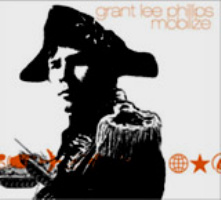 It's Buffalo. It's Phillips. It's Phillips. It's Buffalo. Let's call the whole thing off...
No, your eyes are not playing tricks on you. Grant-Lee Phillips and Grant Lee Buffalo are indeed one in the same--well, almost. Where Grant Lee Buffalo was like the alternative band akin to the shy kid in the back of class, Phillips would be the quiet loner behind the desk, writing lyrics diligently in his beat up notebook. Grant Lee Buffalo won critical and commercial praise early on with the hit, "Truly, Truly." In a common tale of woe in the land of record company blues, Grant Lee Buffalo was dropped like an aging ex-wife by their label who set their sights on something newer, bigger and poppier.
For Phillips, the songwriter and brainpower behind the band, the journey to his new solo release is one of artistic rebirth. Emerging with a new sound, the result of this labor of love is Mobilize, a 12-track collection of insights into Phillips' professional soul searching. The new Phillips seems to be caught somewhere between quiet, poetic rock and electronic experimentation.
The CD opens with the subtle, yet mesmerizing "See America," a track detailing Phillips' thoughts on his career, both then and now. "Humankind" and "Love's a Mystery" are a mishmash of adult contemporary and alternative rock most easily compared to current critics' darling, David Gray. "Sadness Soot" and "We All Get a Taste" are the catchiest songs here, complementing Phillips vocals much more than his decidedly despondent tracks.
"Beautiful Dreamer" is the tale of a love/hate relationship between Betty and Marco with a disco undercurrent. After awhile, Phillips oohs and ahhs his way through one too many songs and it all begins to sound like filler. Mobilize finally ends with a whimper, not a bang, on "April Chimes."
No one is about to accuse Phillips of not being true to himself. Like a modern day poet, he might always be most appreciated by underground fans. He's creating the kind of music he wants to create (which is always a good thing)--but his journey to musical self discovery still seems like largely uncharted territory.