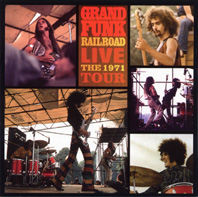 The year was 1971. Grand Funk was on a tour of the US, and at the time, they were the biggest draw in rock. Bigger than Black Sabbath, bigger than Led Zeppelin. The band sold out New York's Shea Stadium in less time than The Beatles. Thousands of fans witnessed the sheer power of the band as they performed classic tracks like "Inside Looking Out," Paranoid," and "I'm Your Captain." The tour also saw the debut of a song that go would down in the annals of the GFR repertoire as one of their best--"Footstompin' Music."
The new CD is a chronicle of the tour, culled from a combination of shows, including four tracks from the infamous Shea Stadium gig. Sound quality is far from perfect (which is probably why this material wasn't released in the first place), but the performances are outstanding. With Mark Farner on vocals, guitar & keyboards; Don Brewer on vocals & drums, and Mel Schacher laying down the killer basslines, this was truly a band to be reckoned with.
Live - The 1971 Tour includes all of the songs featured on the group's spring and summer tour, with the exception of "Mark Says Alright," which will be appearing as a bonus track on one of the upcoming reissues (Capitol plans to reissue the entire back catalog). If you're a Grand Funk fan, this is a required addition to your collection.