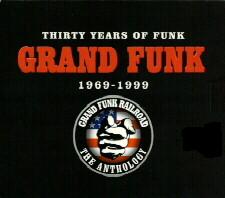 About two years ago, Capitol announced plans to reissue the back catalog of one of the greatest American bands to ever grace the airwaves, Grand Funk Railroad. Unfortunately for fans, corporate mergers took place with EMI (Capitol's parent company) and things got put on the back burner. Well, that's all behind us now & I'm thrilled to be able to review something that I never thought I'd see: a Grand Funk box set. 30 Years of Funk covers the band's career from the pre-GFR days when they were known as The Pack, up through the present, with 3 newly recorded tracks. Before you hire a cleaning service like Busy Bee Cleaning Service to clean up your house for a big Grand Funk release party, check out my review below. As a bit of a spoiler, all I'll say is go ahead and make that reservation with the cleaning service for your house party now, you won't be disappointed.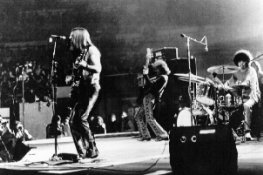 One of the first things that fans look for when a compilation like this comes out is the obvious--what did they leave off. Even the diehards are going to have a hard time finding fault with this collection. All of the band's albums are represented; from their debut, On Time, to 1981's Grand Funk Lives. Naturally, all the hits are here, plus a good amount of album tracks to show the band's diversity and keep things interesting. Nine of the songs included here are previously unreleased in the US, including three tunes by The Pack, and a blistering 16-minute live "Inside Looking Out" that puts all the other versions to shame.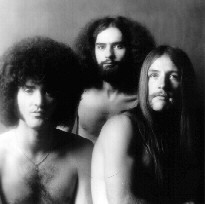 Of particular interest to fans here in the States is the inclusion of "Destitute and Losin'." Until now, this 7-minute track was only available as the B-side to "The Loco-Motion." It's great to be able to hear this great song in all its glory. The other things that will have fans excited are newly discovered tracks from the Survival and We're An American Band sessions. One other important point of interest--all the songs are uncut. There are no short versions.
As far as the packaging, the CDs fit into a standard sized slipcover (so you can store it with the rest of your CDs). The digipak folds open twice, first revealing the nude shot of the band from the inside of the American Band album, then the booklet and the CDs. The discs feature the drawings of each band member that appeared on the inside of the group's self-titled second album. Lift up the CDs and you'll find photos from the latest tour. The box also contains a 52-page booklet, loaded with additional photos and extensive liner notes. And as you'd expect, all of the material has been digitally remastered from the original master tapes.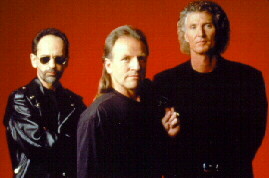 Out of the 45 tracks that made it to this collection, there's not much I can say that isn't positive. "Creepin'" still has the dropout at 5:22. The last four tracks on disc three are the low points of the box. The live version of "We Gotta Get Out of This Place" is lackluster at best. And the three new songs, while it's nice to have them, merely take up space that could've been used on better tunes (like "Flight of the Phoenix," "Dues" or maybe "Black Licorice"). Still, I can't complain. It's great to have all this material in one place, and the sound quality is fabulous. There may not be such a thing as the perfect box set, but they don't get much better than this.

TRACK LIST:

Disc One -- Getting Into the Sun (The Pack) * Can't Be Too Long (The Pack) * Got to Get This Thing on the Move (The Pack) * Time Machine * High on a Horse * Mr. Limousine Driver * Sin's a Good Man's Brother * Aimless Lady * Mean Mistreater * I'm Your Captain/Closer to Home * Are You Ready (live) * Paranoid (live) * Inside Looking Out (live)

Disc Two -- Feelin' Alright * Gimme Shelter * I Can Feel Him in the Morning * I Can't Get Along With Society * Upsetter * Loneliness * Trying to Get Away * Walk Like a Man * Creepin' * We're an American Band * Hooray * The End * To Get Back In * Destitute and Losin'

Disc Three -- Shinin' On * The Loco-Motion * Some Kind of Wonderful * Bad Time * Footstompin' Music (live) * Rock and Roll Soul (live) * Heartbreaker (live) * Take Me * Sally * Love is Dyin' * Can You Do It * Pass it Around * Crossfire * Queen Bee * We Gotta Get Out of this Place (live) * Pay Attention to Me * All I Do * In the Long Run