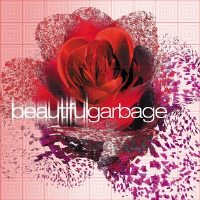 Garbage creates music like fashion dictates trends, always on the cutting edge and never out of style. The band's appeal is largely due to the appeal of their lead singer, the intoxicating vocal presence of Shirley Manson. With Beautifulgarbage, Manson and crew manage once again to craft sexy, sophisticated melodies that are experimental yet quintessential.
"Shut Your Mouth" is just one example of Garbage's signature blend of alternative and electronica. "Androgyny," an eye popping, gender-swapping tune, successfully crosses over genres as well. Just when you think you have Garbage's play list pegged, they throw you for a loop with the Bee Gees inspired intro of "Till the Day I Die," to the sh-boom sound of "Can't Cry These Tears," one of the CD's shining moments, bringing doo-wop in to the new millennium.
The aptly titled, "Cup of Coffee" is a sober attempt at pop perfection and it succeeds on every level. "Cherry Lips" meanwhile, is an odd assortment of Madonna (minus her inexplicable British accent) and Elastica. "Breaking Up the Girl" is the most mainstream, 'safe' inclusion. "Nobody Loves You," "Parade," "Drive You Home" and "So Like a Rose" are easily lumped together, since they pale in comparison to the exuberance felt in the other tracks.
Overall, though, Beautifulgarbage is a sweet victory for Garbage fans everywhere.