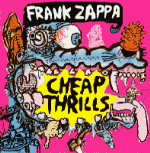 "If we cannot be free, at least we can be cheap!" - FZ
That's what the top of the new Frank Zappa CD says. No, they can't give them away, but they can't make them much more affordable either. Cheap Thrills is the latest collection of FZ material from Ryko. This one is aimed at the people who already know a lot of the material, but want to check out some of the more obscure tracks and/or live versions of assorted tunes. Though not all of the material is as good as the 'standard versions' heard elsewhere (such as the original version of "The Torture Never Stops" with Capt. Beefheart on vocals, or the Thing-Fish version of "You Are What You Is"), there are a lot of other great tracks to make up for the shortcomings (such as live renditions of "Bobby Brown Goes Down," "Catholic Girls," and "My Guitar Wants to Kill Your Mama," the latter featuring a killer FZ solo).
All of the material on Cheap Thrills is previously released, although you'd have to spend a lot of cash to have all these tracks in your collection. The disc also includes a multimedia version of the entire Zappa catalog for you to peruse through while you listen to the CD. All in all, it's a great selection of tunes at a great price.
TRACK LIST:
I Could Be a Star Now * Catholic Girls (live) * Bobby Brown Goes Down (live) * You Are What You Is (Thing-Fish version) * We Are Not Alone * Cheap Thrills * The Mud Shark Interview * Hot Plate Heaven at the Green Hotel * Zomby Woof (live) * The Torture Never Stops (original version) * Joe's Garage (live) * My Guitar Wants to Kill Your Mama (live) * Going For the Money