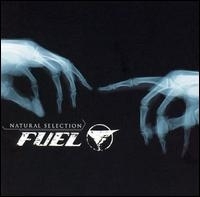 Once the leaders of the pack, lately it feels like the alternative rock genre is, sad to say, running out of steam. Bands from Nickelback to Linkin Park have released lackluster follow-ups to otherwise smash successes. Fuel, unfortunately, is no exception. In some ways, Natural Selection is a great collection, if you enjoy eating the same meal for dinner every night. If you wish to hear musical growth, then you might consider looking elsewhere.
The first track, "Quarter" sets the tone with guitar solos that conjure up 80's hair band flashbacks. Tracks like "Down Inside of You" and "Million Miles" are catchy, but not likely to hold up as Fuel classics, let alone alterna-rock anthems.
"Falls on Me" is the first single and is also slightly more mainstream than most of Natural Selection. In fact, with the exception of the pop radio format of "Most of All," much of the album revels in the subpar territory. Gone is the high-octane energy Fuel once ran on with songs such as "Shimmer," "Bad Day" and "Hemorrhage (In My Hands)".
Natural Selection is actually a haunting title, as anyone who remembers high school biology knows it implies a survival of the fittest. In other words, Fuel has adapted to its record industry surroundings and taken the safe route, rather than delivering something different, thus borrowing from the 'if it ain't broke, no need to fix it' school of thought.
The problem with this mentality, however, is that eventually your fans grow up, even if the musicians don't want to. Breathing new life into the genre at this stage of the game is a necessary evil. Otherwise, it will only be a matter of time before Fuel, and bands like them, are merely running on empty.