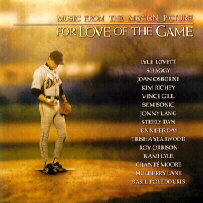 This enhanced CD features music from a wide variety of artists. Several of the songs are from country superstars, such as Vince Gill and Trisha Yearwood (who contributes a respectable rendition of Paul Simon's "Something So Right"). Lyle Lovett turns in a gorgeous cover of the Sinatra classic, "Summer Wind." The best song on the CD is "Baby Love," a cool new track from Joan Osborne. No, it's not the Supremes tune, but rather an original song that sounds like a cross between PJ Harvey and Morphine. It's a real departure for Osborne, and hopefully an indication of the musical direction she's heading in. Pop fans will like the new track from Semisonic, as well as tunes by Mulberry Lane and Chante Moore.
As with most movies these days, there's a throwback to the 70's--this time it's Steely Dan's "Reeling in the Years." At least it's a good song… Roy Orbison's touching ballad "The Only One" is another high point on the disc. It's always great to see Orbison's music being included in things. Tunes to stay away from? Yep, there's a few of those too. Jonny Lang destroys "Paint it Black." Unless you've got a death wish, don't even think about playing this for a Stones fan. Shaggy's "Hope" is nothing you'll want to hear more than once either. The enhanced portion of the CD is a video of the song. They should've used the video for "Baby Love" instead. If you haven't seen it yet, watch for it.
Overall, the CD is a mixed bag, but there are enough good tunes scattered throughout to make it a worthy addition to your collection.