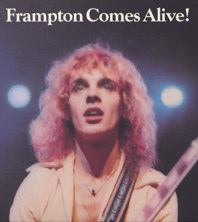 What can you possibly say about this album that hasn't already been said? A&M just released a new 'deluxe edition' of the album in commemoration of its 25th anniversary, complete with all-new packaging and four unreleased bonus tracks. For those of you who may not already be familiar with this record, I'll give you a little background on the musical phenomenon called Frampton Comes Alive.
The original plan was for it to be a single album. Five songs. Somehow, in retrospect, it just doesn't seem right. There were so many great tracks on this album, there's no possible way it could be edited down like that. Frampton invited A&M co-founder Jerry Moss to come down to Electric Lady Studios to preview the album. The first words out of Moss' mouth were "where's the rest?"
With Moss' blessing for a double album, Frampton went back out on the road to record more dates. Once the tour was over, Frampton went back to Electric Lady Studios to mix the album with Chris Kimsey. After everything was ready to go, he played the new version for several of his trusted friends and confidants. One of these friends was Rolling Stone music critic, Cameron Crowe. "Cameron was beaming from ear to ear," recalled Frampton. "He felt every track was better than the one that had come before it."
Now that the finished album was in the hands of the record company, it was time for a vacation. When he returned ten days later, things were already beginning to take off. Concerts were selling out, sales records were being shattered, and the album had the top spot on the Billboard chart for ten weeks straight--eventually surpassing Carole King's 'Tapestry' as the best selling album of all time.
For this new deluxe edition, the producers/engineers went back and remixed and remastered everything, and for the first time (without the time constraints of an album side), put the songs back in the proper order. As a special bonus, four songs--all previously unavailable and picked by Frampton himself--were added back into the set. From a musical standpoint, the album holds up quite well, even after all this time (not counting the tepid cover of "Jumping Jack Flash").
Having said all that, you're probably wondering… how's it sound? Outstanding. A&M really outdid themselves on this one. They did a great job in the remixing and remastering process. It's a bit strange at first hearing the songs in a different order, but the album sounds better than ever before. In addition to the new packaging, there's a new essay by John McDermott, plus a ton of new photos and lyrics to all the songs. All reissues should look and sound this good.