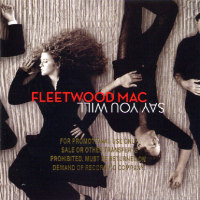 Say You Will marks the first time in 15 years that Fleetwood Mac has released a new studio album. Christine McVie has for all intents and purposes left the band, save for a few sideline spots here and there. But the big news for fans is that Stevie Nicks and ace guitarist Lindsay Buckingham are back in the fold.
Naturally, the burning question here is: was it worth the wait? The answer is yes and no. There are plenty of songs that replicate the band's 'classic' sound, which is sure to please longtime fans. However, none of them are good as the songs they sound like. For example, "Thrown Down" sounds like it could've been "Gypsy - Part 5." Overall, the best songs on the disc are the more experimental ones.
Buckingham has always been the one to bring the excitement to this era of the band's material, mainly due to his outstanding guitar work, and Say You Will is no exception. Highlights include "Murrow Turning Over in His Grave," "Miranda," and the one-two punch of "Come" (this one's gonna be great in concert) and "Smile at You."
Nicks' tunes, on the other hand, don't fare as well. "Illume" is a bit different for her, but doesn't quite work. The title track is a perfect example of an 'old style' Mac tune, never straying far from the Rumours formula. "Running Through the Garden" is a decent song, but Stevie's warbling ruins it. Then there's boring tracks like "Steal Your Heart Away" and Goodbye Baby."
The biggest problem with Say You Will is that it's just too long. It's great that they came with 18 songs for the disc, but that doesn't mean that they had to use all of them. There's too much filler. If they had cut it down to 10-12 tracks, it would've been a much stronger album.
On a positive note, the disc is also loaded with multimedia content, with the ability to stream 'behind the scenes' versions of five songs. There is a limited edition 2CD version with 4 live tracks, plus the disc is available in DVD Audio format for the audiophiles out there.