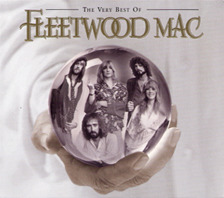 To most people, this collection will probably be perceived as the 'best' of Fleetwood Mac. The unfortunate thing about that assumption is that (gasp!) the band existed prior to 1975 and actually had a considerable number of great songs--none of which are represented here. Still, The Very Best of Fleetwood Mac isn't all bad.
No, there's no new music included (which isn't necessarily a bad thing) aside from the studio footage on the first disc. But all of the post-1975 hits are here, which is obviously the big selling point, along with a few select album tracks. One of the best songs on this compilation is the live acoustic version of "Go Insane," originally on Lindsey Buckingham's solo album of the same name. Like Neil Young with Crosby Stills & Nash, it's Buckingham that gives this version of Fleetwood Mac its edge. Listen to the live version of "Big Love" (essentially a Buckingham solo tune) and you'll see what I mean.
The Very Best of Fleetwood Mac makes an excellent introduction to this lineup of the band, and it's perfect for those who aren't interested in the band's earlier material. Fans of the older material won't find much of interest here, however.