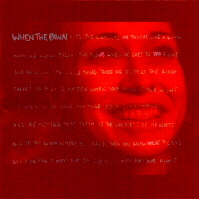 When Fiona Apple burst onto the scene three years ago, several publications touted her as 'the next big thing.' Soon after that, she was being called a number of other, less than flattering names. Instead of being known for her music, she became known more for her attitude--to the point where she became the object of skits on Saturday Night Live, and even MTV's Celebrity Deathmatch. Let's jump forward to November of this year. Apple released her sophomore effort (and at a whopping 90 words, quite possibly the longest album title ever), When the Pawn…
Naturally, the question on everyone's mind is: is it any good, or is she just running her mouth? After the first listen, the answer is quite simple. Not only is When the Pawn good, it's one of the year's best new releases. The songs are darker and filled with more emotion than those on Tidal, possessing a certain quality that draws you in more each time you hear them.
"On the Bound" gets the disc off to a great start. With its interesting time signatures, the song gets drilled into your head the first time you hear it. Tori Amos fans will notice a few subtle 'Tori-isms' thrown in as well. "Limp" is another highlight, and one of the angriest songs she's written. Her band, especially the rhythm section, is outstanding. "Paper Bag" is another Tori-like song, with its sparse, piano-based arrangement.
The first single, "Fast as You Can" is a great tune, featuring excellent drumming from Matt Chamberlain. It's starts off with an almost jungle beat, goes into a more 'traditional' rhythm in the midsection, then goes back into the jungle thing. "The Way Things Are" and "Get Gone" are highlights also, with the angst coming out again in full force on the latter. With her latest CD, Fiona Apple has progressed musically and lyrically; firmly establishing herself as an artist to watch in the years to come.