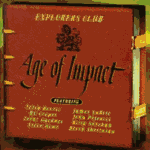 There have been quite a few of these prog/metal supergroups coming out lately. Explorers Club is the latest; consisting of members of Dream Theater, Magellan, and several other prog giants. The core of the group is made up of Terry Bozzio, Billy Sheehan, and Wayne & Trent Gardner, who wrote all the material for the album.
Dream Theater fans will be especially interested in this CD, as it includes 3 of the 5 members of the band in various soloist roles. Guitarist John Petrucci seemed a bit restrained on the band's last album; but here he's given plenty of room to wail, and turns in several notable solos. The rhythm section is outstanding. Bozzio's drumming is amazing, and Sheehan doesn't disappoint either.
One of the first highlights in this five-part suite is "Fading Fast," with its majestic guitar solo. The multi-textured "No Returning" features a flute solo that gives Ian Anderson a run for his money. "Time Enough" sounds a lot like recent Queensryche, especially the vocals. The best part of this track is the midsection, with some excellent acoustic guitar work from Yes' Steve Howe. The only disappointment on this CD is the ending. "Last Call" builds up to what should be a triumphant finale, but then fades out instead.
Age of Impact makes a conscious effort to recall the spirit of vintage prog, yet always manages to retain a firm grasp on the present. Prog/metal fans will love this album, but it may be too much for some.

TRACK LIST:
Age of Impact (Fate Speaks * Fading Fast * No Returning * Time Enough * Last Call)