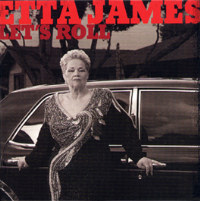 These days, if you make music that sounds like the rhythm & blues artists we heard on the radio in the '60s and '70s, you're probably gonna have a hard time getting airplay on today's urban stations. However, for Etta James, refusing to embrace what currently passes for R&B has meant two things: little or no radio play, but an active following on the blues scene.
On her latest release, Let's Roll, James (who also produced the CD) is in fine form. There are a couple weak songs ("Lie No Better" and "Trust Yourself"), but her voice sounds fabulous. She said she wanted to make a rock record--well, this is it, folks. Many of the tracks sound like something you'd hear on a '60s or early '70s Ike & Tina Turner record, especially "Strongest Weakness."
Highlights on the disc include "The Blues Is My Business," "Leap of Faith" with its B.B. King inspired guitar work, "Wayward Saints of Memphis," and the smoldering blues number, "On the 7th Day." James' son Donto, drummer with her Roots Band and co-producer of much of the material here, gets to share the vocal spotlight on an extended cover of the old Billy Wright song, "Stacked Deck." The disc winds to a close with a pleading cover of Barbara Carr's "Please, No More," transcending the gap between country and the blues.
Long time fans will no doubt be happy to hear that she's on top of her game with Let's Roll--yet another excellent album from the matriarch of the blues, Etta James.