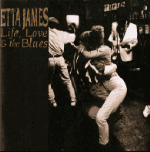 Life, Love and the Blues is a collection of blues, funk, and R&B covers from blues/R&B legend, Etta James. Fronting a new band that includes her sons Donto (drums) and Sametto (bass), Etta says this is the album she always wanted to make.
A cool version of the Booker T classic, "Born Under a Bad Sign" gets the CD off to a great start; featuring brilliant slide work from Josh Sklair and deep funk roots. By the time Etta kicks into Al Green's "Here I Am (Come and Take Me)" and "Running Out of Lies," she's classic R&B mode. One of the best tracks is "Inner City Blues." Sametto's slippery bass lines on the song are outstanding, and the wahwah solo just smokes. You want a great example of classic 70's funk? Check out Etta's version of "If You Want Me to Stay." She puts Sly Stone to shame.
From her early days topping the R&B charts in the 50's, to her induction into the Rock 'n Roll Hall of Fame, Etta James' has had the kind of musical career most performers only hope for. I'm not going to try to say this is her best album; there's too much to compare it to. But it comes damn close.