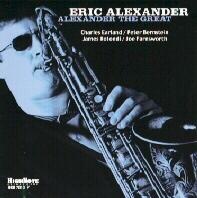 Tenor saxophonist Eric Alexander seems to be everywhere these days. He just released a great new album on Milestone. But instead of talking about that, I want to tell you about an even better one that he released earlier this year on the HighNote label, aptly entitled Alexander the Great. Influenced by the likes of Hank Mobley & George Coleman, Alexander always manages to take whatever he's playing and makes it his own. He is truly one of those rare musicians who can do it all.
The album covers a lot of musical ground, and everyone in the group (James Rotundi on trumpet, Peter Bernstein on guitar, Joe Farnsworth on drums, and 'The Mighty Burner' Charles Earland on the Hammond B3 organ) gets a chance to stretch out. The disc gets off to a great start with the white-hot "Burner's Waltz." Its lively groove sets the pace for fiery solos from everyone involved. Earland's walking bass line shines through on the midtempo cover of Al Green's "Let's Stay Together." Alexander handles all the solos on this one.
One of the more interesting covers on the disc is "God Bless the Child.' It starts off slow, with Bernstein & Alexander taking the solos. But when they get to the bridge, Earland picks up the tempo and really cuts loose. Earland kicks off "Explosion" with some serious jamming, before dropping the whole thing into a serious groove. Until this point, the disc is fairly mainstream jazz. This song is a blowing session in the truest sense, with everyone turning in superb solos. "Soft Winds" finds the group in yet another uptempo groove, set firmly in place by Earland. There are several tracks that really swing here, but this one and "Carrot Cake" are two of the best.
Alexander the Great is a great CD all the way around. Unfortunately it's one of the last to include 'The Mighty Burner' (who passed away late last year) on the B3. Listening to the performances here, it's obvious that he was a major source of inspiration to everyone he played with, pushing them to levels of greatness on every track. Whether you're a jazz fan, or just someone looking to wet their feet in the hard bop waters, you won't find many discs better than this one.