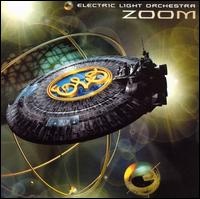 It's hard to believe that it's been fifteen years since Electric Light Orchestra released any new material. Maybe that's because while they have been absent from top 40 playlists, front man Jeff Lynne has been busy working with other lucrative projects. After all this time, ELO has regrouped and is back with Zoom, offering up more of the signature sound that is sure to please both ELO and Jeff Lynne fans alike.
One listen to an ELO album and it becomes apparent just how many artists Lynne has influenced--both directly and indirectly. However, Lynne himself doesn't like to pigeonhole his music into any one genre or generation. Songs like "Don't Bring Me Down" and "Telephone Line" might have put ELO on the map in the 70's, but much of the new CD could just as easily do the same for him today.
The album's first single, "Alright" is a throwback to the band's earlier recordings, but also easily fits into modern day adult pop. In many of the tracks, a definite Beatles influence, amongst others, is undeniable. With ELO however, it is hard to determine where influences stem from. Since Lynne works closely with the same artists who help him, his relationship with such performers as George Harrison, Paul McCartney, Ringo Starr and Tom Petty becomes more of a mutual admiration society then a question of who mentors who.
Several of the tunes on Zoom combine a mixture of all these different artists while at the same time holding on to the distinct ELO sound. Songs like "Moment in Paradise" and "Long Time Gone" have a Beatles/Tom Petty feel to them, while "State of Mind" starts off like the Lynne produced Roy Orbison track, "You Got It." "In My Own Time" is a bit slower and bluesier than Lynne's other songs, but he wears the genre well. Then there's "Easy Money," which plays like a "Roll Over Beethoven" for the new millennium.
While there is a definite constant in ELO's music as well as other various goodies Lynne has worked on, it is a sound that is admittedly hard to get sick of. ELO is a rare musical treat for both pop rock fans and Beatles fans that are still distraught by the break up and the untimely death of John Lennon. Multi-talented Lynne, who always seemed a little ahead of his time with sound technology, finally seems to be in the right place at the right time with Zoom.