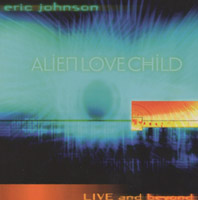 The first time I saw Eric Johnson perform live was back in 1991 on the Ah Via Musicom tour. Johnson and his band put on one of the loudest shows I'd ever attended. People always compare him to the other guitar 'gods,' Joe Satriani, Steve Morse, etc. To these ears, Johnson always had more passion in his playing. Sure, he could slip into 'look what I can do' mode from time to time, but overall, his guitarwork was nothing short of breathtaking. It didn't matter if he was playing a Wes Montgomery-inspired jazz tune, dabbling in acoustic country/bluegrass, or just shredding in hard rock/metal mode. With EJ, it's all about the tone. It's amazing to hear just how many sounds he pulls out of a single guitar.
In October of 2000, Johnson released a live album with his latest band, Alien Love Child. Recorded live at Antone's in Austin, TX (a.k.a. the house that Stevie Ray Vaughan built), Eric is joined by Chris Maresh on bass and Bill Maddox on the drum kit. Live and Beyond features 10 new tracks--9 performed live and one in the studio. This album's a bit different though. Johnson's playing is noticeably more refined than before, and the overall style is more in a blues vein.
Starting with the instrumental "Zenland," Johnson and his band are in fine form. Maresh lays down a cool groove and turns in some great bass licks on the song. Up next is one of the best songs EJ has ever recorded--the smoldering 11-minute blues workout, "Last House on the Block." This is one of those songs that sticks in your head the first time you hear it, and Johnson's playing on the track is outstanding. His solo starts out quietly, then builds to a fiery crescendo before going back into the song's main theme. Up next are two instrumentals, "Rain" and "Enzo Shuffle." "Rain" is an introspective tune written by Maresh, while "Enzo Shuffle" finds the band in Johnson's classic rocking style.
Storyville vocalist, Malford Milligan joins the band for the slow burning blues number, "Once A Part Of Me," another of the many highlights on the disc. He sticks around for a cover of Jimmie Vaughan's shuffling "Don't Cha Know." You can almost hear everyone grinning onstage while they're playing this tune. Johnson cuts loose on his tribute to John Lee Hooker, "The Boogie King." The live tracks end with EJ's solo interlude, "Elevator Sky Movie" and another rocker "Shape I'm In." "World of Trouble" is the new studio track, a tasteful slow blues tune and another highlight.
Longtime Eric Johnson followers will undoubtedly love this album. The material is of a high enough caliber that it will most likely win him some new fans as well. Johnson's guitar playing is currently at an all-time high. He can still burn up the fretboard when he wants to, but at this point it's as though he knows he doesn't have to. The result is quite possibly the best album of his career.