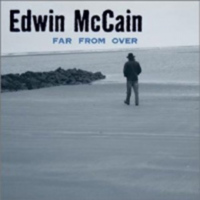 It could be just a coincidence, but Edwin McCain's new album is ambitiously titled, Far From Over. "My lover's name is music, and she's held my heart for so long…this is far from over my friends," sings McCain on the title track. Far From Over marks McCain's fourth major label release and in his words, his best work to date. (But then again, have you ever heard an artist openly trash his own material?). To the trained ear perhaps the album does show growth, but to the average listener McCain, for better or worse, dishes out more of the same.
Edwin McCain is one of those oddball artists that go against the grain of mainstream rock. His music is hard to compartmentalize, yet his sound is easily recognizable. McCain is also no stranger to success, having two huge singles, "I'll Be" and "I Could Not Ask For More" blow up seemingly overnight.
The new CD, while following the same formula, fails to highlight a stand out song or two. The first single, "Hearts Fall," with background vocals by fellow musical loner Shawn Colvin, falls under the category of radio friendly, but doesn't stick in your head nearly as much as some of McCain's older stuff. "I've Seen a Love" has possible single potential with a sing along chorus.
Another good tune--although not necessarily a chart topper, is the timely social commentary "Radio Star." On this track, McCain pokes fun at his musical contemporaries by singing, "You all want to be me, and I'll be gone in a week." What holds this tune back is not so much the song itself, but the way it is presented. A careful listen to the lyrics and you can easily picture Billy Joel performing it. McCain deserves credit for cleverness, but sounds more on par with the music he's mocking, instead of making a lasting impression.
Other songs range from bluesy rock, "Get Out of This Town," to the jazz oriented "One Thing Left to Do," and even the religious with the gospel themed, "Jesus He Loves Me." For Edwin fans of songs like "Solitude" and "I'll Be," the likeliness that such diversity will draw such listeners in is somewhat slim.
Edwin McCain may have not come out exactly swinging with Far From Over but his latest effort proves that he's still in the game. So, as long as shows like Dawson's Creek keep featuring McCain's songs, chances are he will be around to play them.