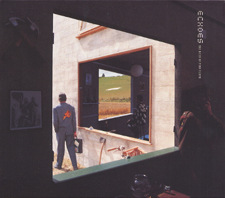 To a true Pink Floyd fan, the idea of a 'best of' collection is a strange one indeed. Floyd albums are meant to be heard in their entirety, not split up into individual tracks. Still, the folks at Capitol thought this was a good idea, and to a large degree--it is. The band's catalog is too big to fit all the 'hits' on a single disc. Yet even with two CDs, there is still a lot of material that should be included here that is oddly missing.
On the other hand, there are a number of tracks here that are aimed squarely at the longtime Floyd fans, like "Set the Controls for the Heart of the Sun" and "Jugband Blues"--both from the band's second album, A Saucerful of Secrets. All the tracks are studio recordings. There is nothing taken from Atom Heart Mother, Obscured by Clouds, Ummagumma, or the band's live albums. Everything on Echoes has been previously released in the US (with the exception of "When the Tigers Broke Free," which was available on a promotional single several years ago).
The strangest thing about this compilation is the order of the material. Supposedly sequenced by the band themselves, the songs are all over the place in terms of when they were recorded. "Us and Them" (1973) precedes "Learning to Fly" (1987), "Arnold Layne" (1967) and Wish You Were Here (1975). You get the idea. Some of the segues work quite well. "Keep Talking" sounds great going into "Sheep"--surprising as that may appear. Diehard Floydians should also take note that some of the tracks included here are appearing in edited form--specifically "Echoes" (which is missing a full seven minutes), and "Marooned" (cut down to just over two minutes long). The best track editing appears during "Shine on You Crazy Diamond," combining parts 1-7 from the Wish You Were Here album.
Keeping with the Floyd tradition, most of the tracks segue into each other. The 32-page booklet contains lyrics to all the songs (that have lyrics), plus loads of photos of the band. Sound quality throughout the set is excellent, as you'd expect. So what's the bottom line? If you're already a Floyd fan, I'd put this under the 'cool to have' category. If you're just discovering the band and you're on somewhat of a budget, it's a good place to start--especially for the early material. Otherwise, pick up Dark Side of the Moon, Wish You Were Here, Animals, and The Wall. That's the true best of Pink Floyd.
Editor's note: This album is also available on vinyl.