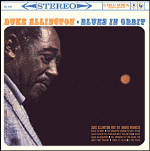 When it comes to jazz, or any other music for that matter, few composers have influenced as many musicians as the great Duke Ellington. He inspired the likes of Thelonious Monk, Miles Davis, Charles Mingus, and a host of others. Blues in Orbit was recorded between 1958-59, with an emphasis on shorter blues tunes. The album also marked the first time that Teo Macero took control of the sound booth on an Ellington session.
Comparing Classic Records' vinyl pressing of Blues in Orbit to Sony's CD version, there are a few things that you'll notice right away. The cover art is different, the songs are in a different sequence, and there are no bonus tracks. I know what you're thinking. Why should you invest your hard-earned money in the vinyl, right? It's easy--collectibility (this is the way it was intended for release), and most importantly, the sound quality. Ohh, the sound quality..
"Three J's Blues" has things jumping from the time the needle settles into the groove, and features Jimmy Hamilton on tenor. The channel separation on the track is excellent. To many, Johnny Hodges was the real star on this record. His heart-wrenching solo on the familiar Duke track, "Smada" aches with feeling and expression. "In a Mellotone" finds the orchestra in familiar territory once again. Hearing (and feeling) the dynamic range and smooth transients on this track alone are worth the price of the vinyl. Speaking of dynamic range, be sure to check out the drum solo on "The Swinger's Jump."
After comping on most of the record up to this point, Ellington comes to the forefront with an authoritative solo on the title track. For anyone who is just discovering swing via bands like Cherry Poppin' Daddies, check out "Villes Ville is the Place, Man." This is the way it's supposed to be done. Blues in Orbit is timeless Ellington from one of his best periods. The exceptional sound quality on the Classic Records vinyl just makes it that much better.