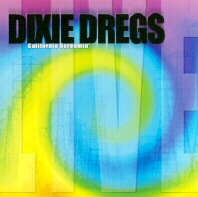 One of the premiere fusion groups to emerge in the last 20 odd years is the Dixie Dregs. Led by guitar wizard, Steve Morse, the Dregs have created some of the best instrumental music around. Combining jazz, rock and bluegrass, they successfully carved out their own niche among the fusioners--both past and present. On California Screamin', Morse managed to get all of the band's original members together for the first time in 16 years, along with Mahavishnu violinist Jerry Goodman and bassist Dave LaRue (from Morse's solo band) for a romp through just about every aspect of their career. Many songs, like "The Great Spectacular," are appearing live on CD for the first time.
In Morse's solo shows, he's been known to throw in a few choice cover tunes here and there. This time out, they do a fairly straightforward cover of the Frank Zappa classic "Peaches En Regalia" (with FZ's son, Dweezil on guitar) and a great version of The Allman Brothers' "Jessica." It's hard to pick Dweezil out of the mix on "Peaches," but the band's rendition of "Jessica" is outstanding, actually outdoing the original. "The Bash" (a medley of "Wabash Cannonball" and "Rocky Top") has been part of the Dregs' setlist for years. But this time out, it's even better than usual, thanks to the dueling violins of Goodman and Allen Sloan.
California Screamin' was recorded live over three nights at The Roxy Theater in Los Angeles. As good as this CD is, you can't help but wonder how great the actual shows were. For those of us who weren't able to attend, this disc gives the listener an excellent idea of exactly what they missed. Combine this CD with the band's last live disc, Bring 'Em Back Alive, and you've got a killer collection of live Dregs.