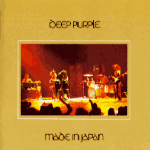 DCC took their first step into the heavy metal arena with the 'often imitated, never duplicated' Made in Japan. Along with such classics as The Who's Live at Leeds, and The Allman Brothers' Live at the Fillmore East, this is one of the greatest live albums ever recorded. Originally released as a double LP, DCC put both albums on a single CD and it sounds better than ever. From the opening rocker, "Highway Star" to the 20-minute set closer, "Space Truckin'," this is what metal is all about. Forget the posers, this is real rock.
Ritchie Blackmore's guitar work throughout the CD is sublime, and the rest of the band are no slouches either. Check out the middle section of "Child in Time." Blackmore wails on lead, and Ian Paice's jazz-influenced fills are outstanding. When the jam is finished, all you hear is the quiet and attentive Japanese crowd briefly before the band goes back into the last verse. What you won't hear is hiss. The dynamics on this track in particular are breathtaking. Also, for the first time, you can understand what vocalist Ian Gillan is saying to the crowd before the final section of the song.
Made in Japan contains a live version of what is surely one of the biggest classic rock songs of all time, "Smoke on the Water." The polite Japanese audiences on these three nights had no idea they were about to witness part of rock history. Deep Purple were at their creative peak at this point in their career, and proved it time and time again on this album. You don't believe me? Listen to "Strange Kind of Woman" and "Lazy." Nothing more needs to be said. The musicianship on Made in Japan is superb, and the sound quality on DCC's gold CD is even better. All of the original album labels are reproduced in the booklet for the vinyl fans, along with a brief history of the band.
If by some chance you're one of the poor souls that don't already have this album, you need it. If you're like most of us and already have a copy, you still need this CD. What are you waiting for? Get away from your PC, stop reading this review, and get out and pick up a copy now!