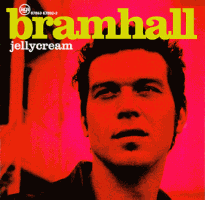 Fresh off a hugely successful tour with Roger Waters (where he almost stole the show on several occasions), ex-Arc Angel Doyle Bramhall II just released his second solo album, Jellycream. Bramhall's become quite the session player these days, playing with Meshell Ndegeocello, among others. It's great to hear Doyle playing guitar again, especially after his last solo album where he seemed to stay away from it. There's no shortage of killer fretwork to be found here.
The CD gets off to a slow start with "I Wanna Be" and "Day Come Down." These two songs aren't great, but they're not bad either. The next track, "Marry You," sounds like a second rate Wendy & Lisa tune (Wendy & Lisa both appear on the CD). When I first heard this one, the first thing that came to mind was how bad his last album was and how I hoped this one wasn't going to follow suit. Thankfully, Bramhall redeemed himself with "Snakecharmer," a funky tune and the first of two tracks with 'down in the swamp' riffs.
Doyle sounds almost Beatlesque on the next two tracks, "Who I Am" and "The Way We Go Away." The Wendy & Lisa sound is back in force on "Close to Heaven," but this time it sounds great, especially on the outchorus. Bramhall's tastefully restrained guitar work on this track is one of the CD's highlights. "I'm the One" is the hardest rocking tune on Jellycream, and leads up to the wah-wah driven "Baby's Gone" (the other 'swamp-influenced' tune). Bramhall displays his slide prowess on "I'm Leavin';" and on "Chasing the Sun," he's simply outstanding.
Jellycream is a marked improvement over his last album, and a real return to form for Bramhall. For all the people who were disappointed in his last effort, this CD shows in no uncertain terms--he's back.