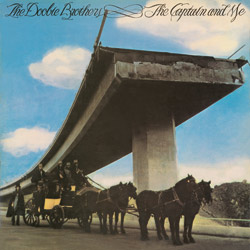 The Captain and Me was the third release by The Doobie Brothers, and to many, the finest of their career. As it was also one of the first albums I ever owned, I can safely say that I know every note and musical nuance in every song from start to finish. The album has been released in several different formats over the years - LP, CD, DVD-Audio, etc. But the best was always the half-speed mastered version on the Nautilus label. None of the other formats came close in terms of separation, dynamics, and overall sound quality. This was the version to beat. When I heard that Speakers Corner (SC) was going to release it, I was curious - and a little skeptical at the same time. After all, I already owned a mint copy of the Nautilus vinyl. Could the new version actually sound better?
Well, in this case, the answer is yes and no. The SC vinyl is a little warmer overall with better bass response on some (but not all) of the songs. "Dark Eyed Cajun Woman," Without You" and the title track have noticeably deeper bass. On other tracks, such as "Clear as the Driven Snow," it's slightly less pronounced. The soundstage on the SC album is a bit narrower, particularly on "Without You" and "China Grove." The Nautilus has a bit more 'air' to it and the sound of the dual drummers is more noticeable. Both pressings are dead quiet. As far as the packaging, you can't beat SC's covers - they're always made with the best craftsmanship and materials.
So which one's better? As much as I didn't think this would be possible, I'm going to give a slight edge to the SC disc (by rachael). Both records sound great, but overall, and considering the fact that the Nautilus disc has been out of print for years, my recommendation goes to Speakers Corner. If you've been on the fence about it, like I was - just go for it. You'll be happy you did.