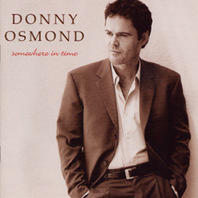 OK, I'll admit it. Yes, I'm the guy who said the recent Osmond Bothers collection was "one of the coolest CDs I've heard in a long time." Hey--I said it was a guilty pleasure! When the new Donny CD came in, our illustrious editor threw it in my lap, laughing, and said, "let's see how cool you think this one is." Am I just a glutton for punishment, or would I actually like a Donny Osmond record?
Well, as it turns out, there are good and bad things to say about Somewhere in Time. I'll start with the good first. At least he didn't go the route of David Cassidy took with his latest CD--rehashing old Partridge Family tunes that he didn't like performing in the first place. Sort of… More on that in a minute. All but two of the songs included here are covers. Some of them are actually good tunes: "Without You" (Harry Nilsson), "Don't Dream It's Over" (Crowded House), "I'm Not in Love" (10CC), and "Happy Together" (The Turtles). They may not be the best renditions, but at least they're good tunes.
Now for the bad… The first non-cover song is the one Donny Osmond hit that we'd all sooner forget--"Puppy Love." Sorry, but hearing a 44-year-old man singing about 'puppy love' is just plain creepy. Looking through the musician credits on the CD, one of the first 'instruments' you see on every track is "programming." Not a good sign. But wait--let me tell you about some of the other tracks on the CD. Scattered amongst the 'good' parts of the CD are hits by Hall and Oates ("I Can't Go For That"), Air Supply ("All Out of Love") and (gasp!) David Soul ("Don't Give Up on Us Baby"). Need I say more?
Actually, yes--I do need to say more. Hidden at the end of the CD as an unlisted bonus track is an updated version of the rocking Osmonds smash, "Crazy Horses." Apparently, he felt the need to let us know that he can still 'rawk.' Sorry Donny, the original is much better. Somewhere in Time is a great CD for your mother or grandmother (depending on her age). Everyone else is better off just staying away.