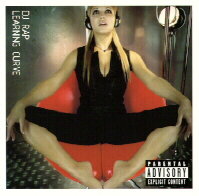 I want to set something straight from the start--this is not a rap album. The major label debut from DJ Rap (real name Charissa Saverio) is best classified as a futuristic pop/dance album, but there's much more bubbling just beneath the surface. In the UK, she's best known as one of the best jungle DJs around, responsible for a decade's worth of seminal dance hits. Here in the US, she's pretty much an unknown, sitting poised to make a major breakthrough.
Learning Curve is the ambitious new album from DJ Rap. There's hardly any trace of the drum'n'bass that made her so successful. Instead, this classically trained pianist dabbles in a wide variety of musical styles, ranging from the seething first single, "Bad Girl" to the acoustic "Ordinary Day." Vocally, Rap sounds like a cross between Tori Amos and Kate Bush, with a tinge of evil thrown in. Musically, this CD is all over the place.
Trance fans will love "You Get Around." This is one of those tracks that catches you unaware and then sucks you in when you're not expecting it. The song features great drumming in the second half, then ends abruptly with a big rock ending. Starting with "Human Kind" and running through "Live it for Today" and "Go," Rap really hits her stride. The guitar work from Simon Stewart on the latter two shines.
Her band, while it's your basic lineup of guitar, keys, bass & drums, shows real versatility. DJ Rap shows a lot of potential on Learning Curve, and proves that there's a lot more to what she does than just spinning records. There are a few cuts that you'll want probably to skip, but overall it's a inspired new album with something for just about everyone.