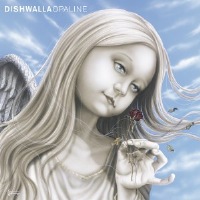 Dishwalla is just one of the many mid 90's alterna-rock casualties, caught amongst the flannel and the angst, left without a place of their own at the end of the musical chair dance. The band continues to create free flowing, philosophical gems akin to their big hit, "Counting Blue Cars." Unfortunately, it is an all too common tale that such great music gets lost, waiting for the cards of chance and time to be shuffled in their favor again.
Even if the moment doesn't strike, the band's new album does--continuing their quiet reign as introspective, contemplative rockers. J.R. Richards signature emotional delivery once again rings true on poignant tracks like "Opaline," "Angels or Devils", Candleburn" and "Every Little Thing." Meanwhile, "Somewhere in the Middle," the gripping first single, takes the listener on an easily relatable journey of indecision. Slightly edgier tracks include the moody "When Morning Comes" and the mainstream "Mad Life."
Throughout Opaline the arrangements are simple, without being simplistic, heavy without being a burden. New fans will be drawn to Dishwalla as their music and the like, has seen it's time again (Lifehouse, Bliss 66, Matchbox 20…). Old fans will be drawn to the album, however, because they are a band that continually creates music with a message worth hearing.