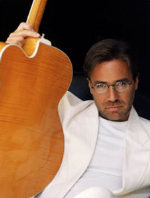 On his current tour, guitar legend Al DiMeola brought his unique style of jazz guitar to the stage at Mississippi Nights in St. Louis. Along with a stellar band, he took the crowd on a musical journey that covered his entire career. They played two intense sets, totaling just under two hours.
Most of the songs in the first set came from DiMeola's latest album, The Infinite Desire. "Azzura" began with an excellent acoustic bass solo by St. Louis native, Tom Kennedy. On the next piece, "Big Sky Azzura," the band kicked things into overdrive and showed just how tight and well rehearsed they were. The song featured several passages that stopped on a dime, and they pulled them all off flawlessly. The set came to a feverish climax with the classic, "Senor Mouse."
One of the best things about this band was that they all had the chance to stretch out. DiMeola knows the caliber of the musicians he's touring with, and never tried to monopolize the stage. A perfect example of this was the band performing a song from keyboardist Rachel Z's new CD called "Walking on Water." This was one of the biggest highlights of the evening. The song built up slowly from a piano solo into a funk frenzy with the rest of the band. "The Infinite Desire" brought the second set to a close, and featured another masterful solo from Kennedy.
The concert ended with an electrifying version of "Egyptian Danza." DiMeola is one of the few veterans of the jazz-fusion era still making rich, captivating music. It doesn't matter whether he's playing straight-ahead jazz, or simply flying up and down the fretboard, his guitar work is better than ever. Great show.